Good Vibrations!
Well, I really am on a high mood today, just got back from my first ever music festival (more about that later). And then today I have been for a walk with my 'childhood sweetheart' Damien. It was so nice to see him and hug him again-it's been a long time since I last saw him. He lives in Holland now, and we only fairly recently got back in touch through email via friends re-united. Anyway, he seems just the same, he even smells the same! Brought back some lovely happy feelings :-) It's so nice that we can still love and appreciate each others company and memories after so long. Some people never leave your heart.
OK, the festival! I went with Gus and Nicole to the Hayseed Dixie festival in Ullapool (Loopallu 2006). I don't really know how much detail I should go into, as for many of the things that are still making me smile you kind of had to be there to appreciate it! The drive up was very very long! Ullapool is about 50 odd miles further North/west than Inverness, so from Liverpool the drive was approximately 450 miles! We stopped off for lunch at Marie's, which was lovely apart from the fact that I missed a turn and tried reversing round the corner in a huge campervan, bumping a parked car. (oops) less said about that the better! That was the only mistake I made in the 1000 mile round trip though!
The rest of the journey was pretty dull, we drove into the campsite at around 1am Friday morning (after leaving Liverpool at about 11.30 am on Thursday! So we had a quick nightcap and basically went straight to bed!
The next day I went on the hunt for other members of the Hayseed Dixie chat forum, known as The Outhouse. I had the mobile number of one of them, so it was pretty easy to locate the group. In the pub of course! The weather was just wonderful, so we gathered in the beer garden, drank together and chatted-more and more people from the Outhouse, and members of the band drifting in and making the whole atmosphere really cosy. It kind of gets blurry after that-in terms of what happened and when-there was a short hayseed dixie set, some local music, and then I think I went back to the pub and drank some more! In fact, I think I drank all day and night. Gus took Nicole back to the van at about 11pm after watching the Stranglers (which I didn't leave the pub for!) and I just enjoyed the rare opportunity to behave like I was 18 again! It was probably about 4am that I went for a walk along the loch with one of the guys, and I remember listening to music in one of the hotel rooms, having a drink there after the pub was shut, and eventually I got back to the van at about 5.50 am. I expect that I made a complete ass of myself-I KNEW I was very very drunk when I felt the need to announce how drunk i was every second sentence! BUT, I didn't pass out (I don't think!) or puke up. And I don't regret a thing, it was just a brilliant drunken day and night!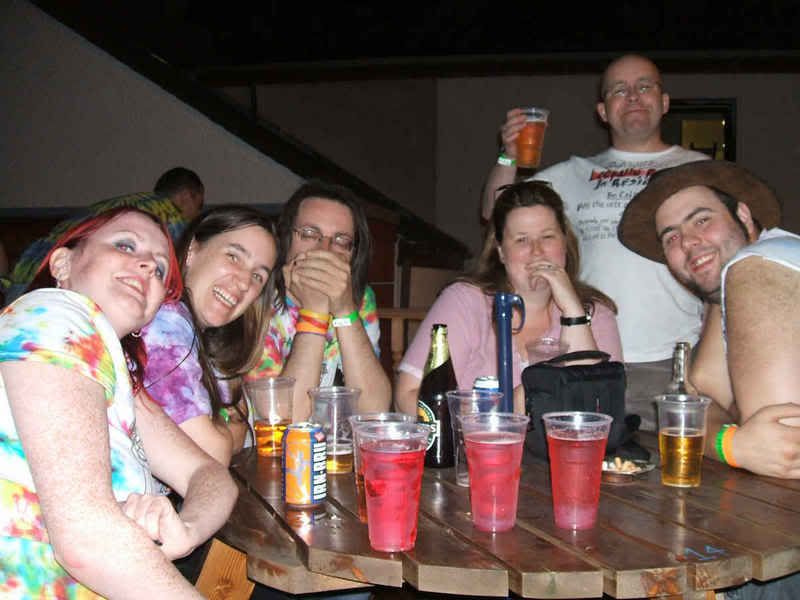 (photo by Jonthehat)
Next day I still felt drunk and went to a poetry reading by one of the Outhousers. Gus started on the guiness, but I knew I had to take it a bit easier as I'd be driving back to Liverpool the next day, so I had a lie down and didn't start drinking til about 4pm (I think) I didn't realise I had the shakes till I tried picking my pint up! There were more silly conversations, more introductions, more outhousers, more drinking, a very enjoyable sing song, and then I got off my arse and went to see Alabamma3 who were on in the tent before Hayseed Dixies headlining set. We stood at the back on a little stage bit this time, the whole tent was packed but were in the perfect position to see everything without getting crushed-great for Nicole who thouroughly enjoyed herself! I thought Alabamma3 were fantastic-the female singer has a really unusual and great sounding voice, and of course HD were as good as ever.
After that, Gus and Nic went back to the van and I went AWOL again-to the Outhouser tent party! They'd shut the pub doors to the public, so we all gathered outside some tents. There was twister, banjos, beer (although I didn't drink anything after the gig-thinking of the drive the next day!)more singalongs, including an impromtu performance by HDs lead singer John Wheeler. I was by this point pretty much brain dead-but unwilling to let my Loopallu experience come to an end-so I stayed up and watched everyone elses antics, conducting only a few quiet conversations when my brain could piece a sentence together!
We managed the drive the next day. Without any long stops me and Nic got back home at about 10pm. School the next day!
I'd love to go again next year!
And while I was writing that, I got a text from my ex-bruv in law, another friend from the past I love to hear from! Lots of things are going good and feeling nice!
I must enjoy this positive run as much as I can! Single life is feeling pretty ok at the moment! :-)